If you're not already familiar with the lovely Ebony Bizys of

Hello Sandwhich

, I highly recommend you head on over there quick smart for your fill of colour, Japanese micro-pop, cuteness and glitter! I started reading Hello Sandwhich awhile ago and it is a constant breath of fresh air in my Google Reader. Not only does Ebony collect and document all things adorable and Japanese, but she is also an extremely talented artist and designer (see some of her Vogue Living spreads over

here

) as well as being a super lovely gal. I can't wait to go visit her in Tokyo next year!
Can you tell us a little bit about your background? The journey you took to be where you are and what you're doing at the moment?
When I finished school I studied Fine Arts at university majoring in painting and drawing. Actually I am still finishing off my Masters of Fine Arts. Once you enter that school you can never leave! It's COFA's (College of Fine Arts UNSW) dirty little secret! At the same time I was at university I began working part time at VOGUE magazine and eventually found myself working full time as Deputy Art Director for VOGUE Living magazine. I adored my job so resigning was a tough decision to make, but last month I made the move over to Tokyo where I now live. I absolutely ADORE it here! I am happier than ever!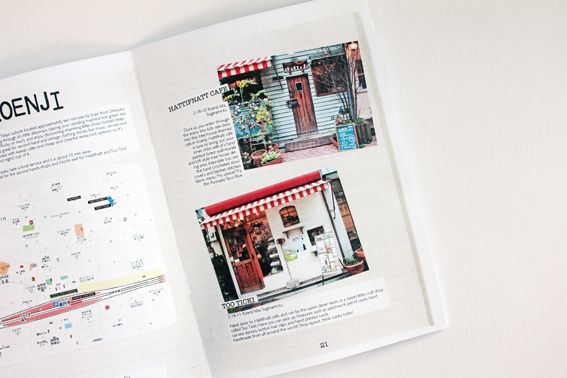 Why do you create? What is it about being creative (in whatever sense) that makes it something important for you to do?
Creating is a part of everyday life for me. Whether it's drawing, painting, designing, blogging, crafting, making zines, making installations, making animations or even arranging colourful Japanese foods in a bento box, anything creative is just a very normal daily part of life. I feel happiest when I am doing something creative. It's the main drive that keeps me going.
Where do you look for inspiration? Who or what inspires you?
Everywhere! I find inspiration in anything from a tiny pastel coloured scrap of paper to an entire Tokyo suburb! I am always searching books, magazines, websites, blogs, art galleries and design studios for inspiration. All creative people who are following their dreams make my heart beat a little faster!
Do you find that there are overarching themes that come through in your work, ideas, etc that you keep coming back to or want to express?
For many years my artmaking has been informed by Japanese culture and Japanese 'micropop' art. I aim to explore 'micropop' ideas such as childlike wonder, fantasy and dreamlike elements in most of my art works.
I'm sure on the outside, creativity often seems like it always flows easily but I imagine this isn't always the case! Are there ever times when being expected to be creative for work or on demand feels overwhelming? How do you work through those feelings?
I guess I am pretty lucky as there are only rare cases when it doesn't flow as easily but it's generally nothing a short screen break or a cup of green tea can't fix!
What are the most rewarding and most difficult parts of your work as an artist and your creative life in general?
The most rewarding part is being able to do what you love all day with the added bonus of being paid! It's a dream to stay inspired and nourished through my work. Being able to work creatively enriches my life immensely. I can't really think of any difficult parts.
If you weren't doing what you're doing now, what would you like to be doing?
Professional Latin American Dancer, hosting a craft show on TV, being
Hiroshi Sugito's
artists assistant or opening a Hello Sandwich Shop / Gallery / Creative Space!
Thank you, Ebony!